Monday, September 24, 2007
Assholes on public transports

You know those inconsiderate assholes you get to see once in a while on a bus-ride last time? It has grown. Now, you can spot at least 1 per public transport ride you take.

I've taken the effort to type out each type of asshole that i deem an asshole which you can find on the regular public transport. Each group are distinctively different from another, and most distinct from non-assholes, so you'll instantly recognize them when you board the transport.

---------------------------------------------------------------------------------------
1) Situation: The Urgent Dick head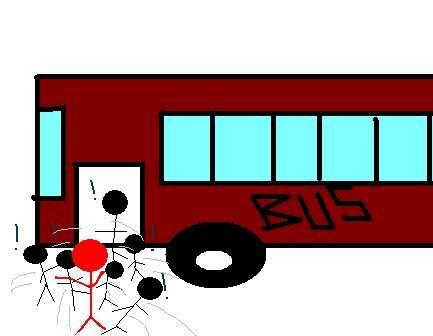 Usually spotted when you are entering the bus, some random asshole will appear out from nowhere, and push everyone else away from the bus in the process to get up the bus as quickly as possible. It is as if they are competing who can get up the bus first. This is called the urgent dick head. The irony being that most of them aren't actually urgent, but still do it anyway.

They also frequently appear in the MRT station. It is especially irritating when you are unable to get out of the train because they barge in before you are able to get out. Yet despite all the aunties and uncles complaining about school kids causing inconvenience in public transports, they themselves are usually the dickheads.

Solution: Urgent Dick Head

There isn't any known solution for dick heads boarding the bus to me yet.

However, for those boarding the MRT, create a commotion so as to embarrass them. When they barge in, you can shout " Alamak, where is your courtesy??". For a better result, you can also add some stupid terms to make them move away such as "HOT! HOT! BOILING WATER!!" or "SHIT! MY PENKNIFE!". A better way is to really hold a jug of boiling water and really bring a penknife to drop it. If it still doesn't work, do not just barge through unless you are certain that you will not injure anyone.

-------------------------------------------------------------------------------------

2) The brittle man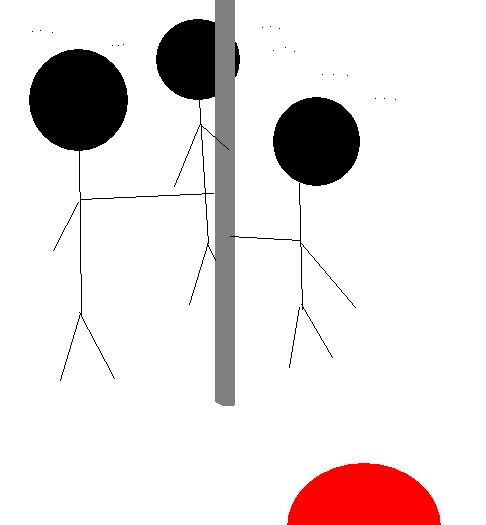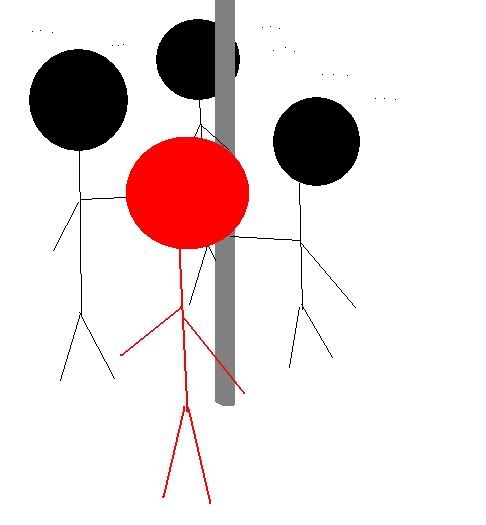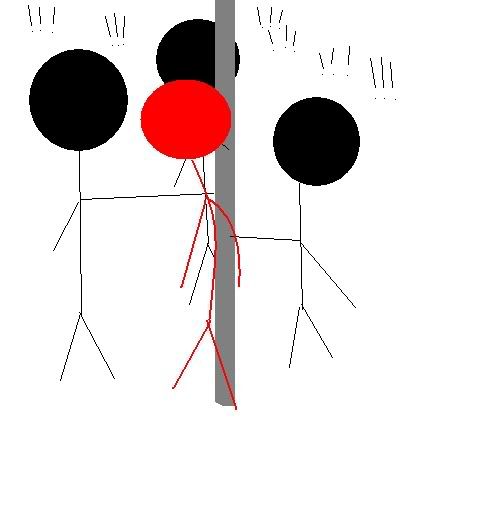 A serious asshole usually found in MRTs. These people are not as common as the urgent dick heads, but more irritating, so as to compensate for their rare appearances.

Everyone hates the brittle man. I'm not talking about those that lies on empty poles ( That doesn't mean those aren't assholes. They still are, only that on a more minor scale). I'm talking about poles that people are holding onto. The brittle man will just lie on your hand regardless of anything.

Solution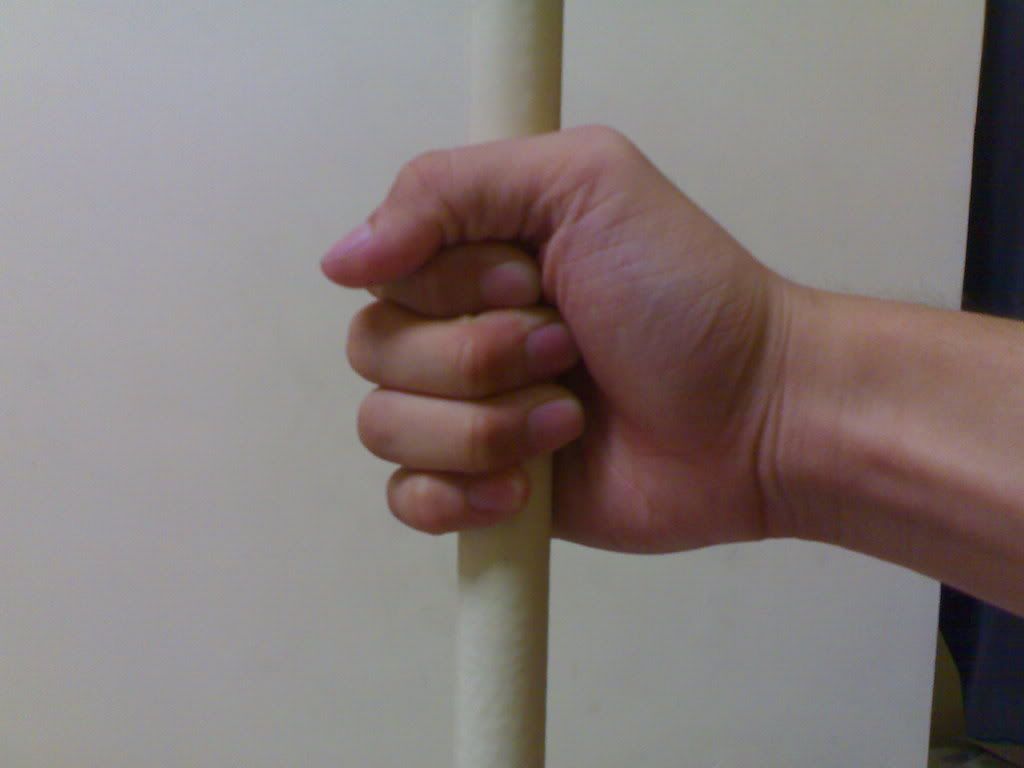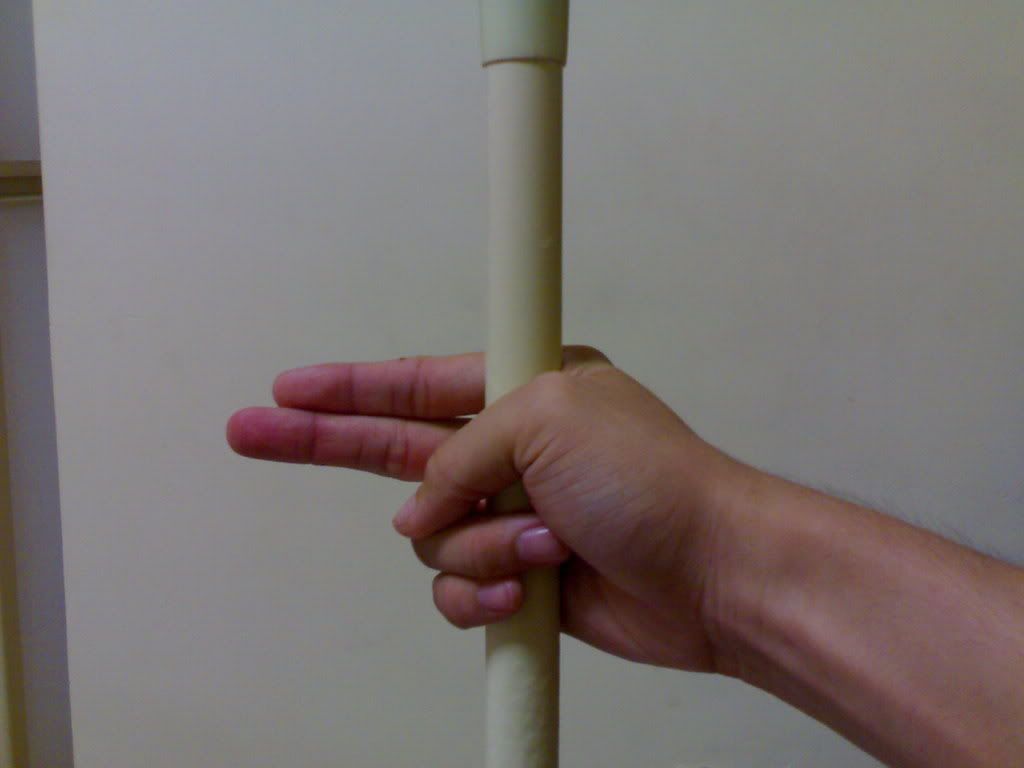 Protrude your index and middle finger outwards

Simple. But risks yourself getting beaten up, though the chances are still low considering you are on a PUBLIC TRANSPORT. Alternatively, you can wriggle your hand and move it up and down along the pole.

------------------------------------------------------------------------------------------
3) The Fatass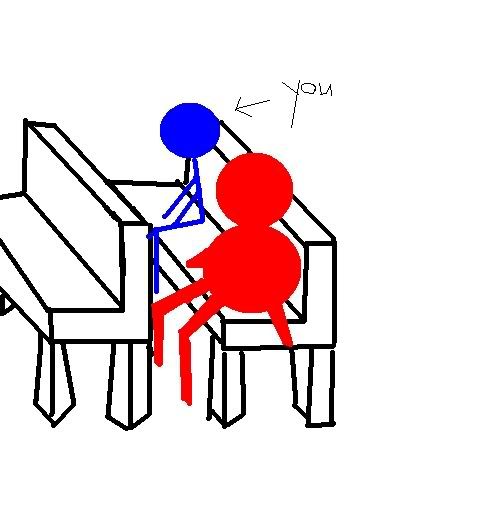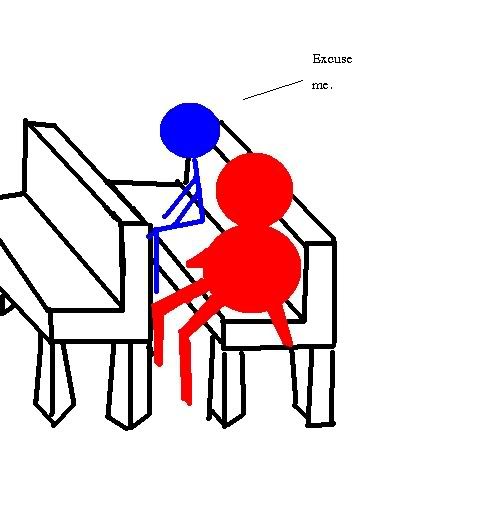 This particular asshole need not really be a fatass. There are two types of this asshole. One doesn't know how to move in to empty spaces to enable people to board the bus, the other doesn't know how to lift his butt off the seat to let others out.

Solution:
No solution yet.
------------------------------------------------------------------------------------------
Don't you just hate assholes? Yes you do.

Norman.

Norman Au.



Blogged at 7:22 PM, +8 GMT



0 Comments:
Wednesday, September 19, 2007
Worst drama in the world

I suspect the Opera is an organization that is formed as a measure only to decrease a place's unemployment rate. I seriously cannot believe why people think that you need talent for Opera. It's not true. You need courage to perform something so stupid.

Everything about Opera sucks. They don't even make sense. The reason why they exist is for people to laugh at them. (Don't try to say no, I know most of you do) It is something like a comedy.

People in Opera are unable to move around without a drum beat and brass equipments.

First of all, everyone of you must understand that Opera is about exaggeration. They do 'the extra mile' for everything, except the narration.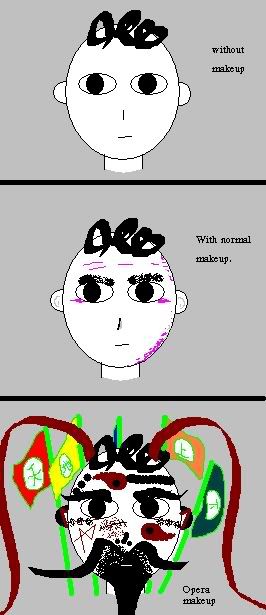 Secondly, the way they move around. They do not know how to walk properly. Quite often, you will only see their lower part of their body move, with their upper part of the body keeping still with arms in such a manner that people don't quite understand. Who the hell walks in this manner.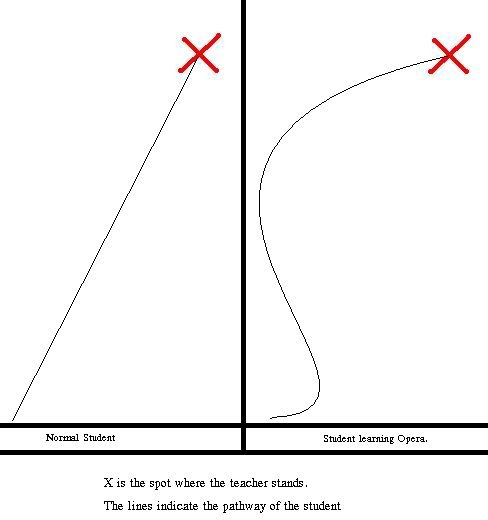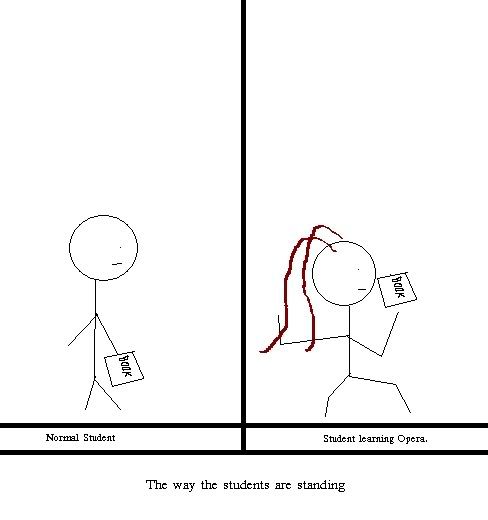 The worst thing is their narration in English. It totally sucks. It sounds as thought the narrator is picking out random English words like " he, power, strong, win, righteous, martial arts, great, evil, die." These words are a must for Opera Narration. It goes something like this:

Narrator: He strong.
*Performer dances for 15minutes*
Narrator:Great martial arts, righteous.
*Performer wields weapon for 20 minutes*
Narrator: Evil die.
*Performer dance with another performer for another 10 minutes*
Narrator: Win righteous evil he martial arts strong great die power.
*The performer acting as the evil guy suddenly collapses with the sound of drum beats and brass equipments being played. The process of collapsing takes another 15 minutes.*
Show ends.
----------------------------------------------------------------------------------------------
Yet, there are still positive things that you can gain after joining the Opera. You will be able to spin well. Trust me. Throughout the entire Opera performance in my school today, i swear i see them spin at least 50 times. They spin just about everything they can think of:

Their heads
Their entire body
Their weapons( suppose to be fighting but they just spin the weapons and the opponent falls. So no point on fighting)
Their hands

.
No drama is worse.
----------------------------------------------------------------------------------------------
Norman

Norman Au.



Blogged at 8:21 PM, +8 GMT



0 Comments:
Saturday, September 15, 2007
Martial Arts




Martial Arts is a compilation of different various actions such as rolling, kicking a ball, bouncing a ball, squatting down, performing sexual intercourse; and then animated to be used as a form of self defense; then to be lost again generations after generations as each master keeps a good technique to themselves even when they die for fear of being attacked by the disciple.




The more common martial arts we know of includes Tae Kwon Do, while the not so commonly heard of includes Ninja Do.

In the past, people often use martial arts for these various reasons.

To force sex
To protect the Emperor and oneself
To fight to distinguish the better one
To assassinate and ascend the throne later on

Now, people often use martial arts for these reasons.

To lure girls and trick them into sex
To protect your stead
To take part in competitions that stops almost as soon as it started to distinguish the better one
To assassinate and get hanged later on

Here are different types of unique Martial Arts:
------------------------------------------------------------------------------------------------

Karate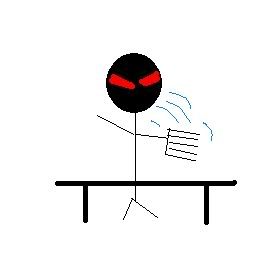 Karate is a type of martial arts that involves you to slam your palm hard onto something hard so that the object will break but more often the object breaks your hand. Karate is said to be the key source of idea for the invention of a hand axe.

Ninjitsu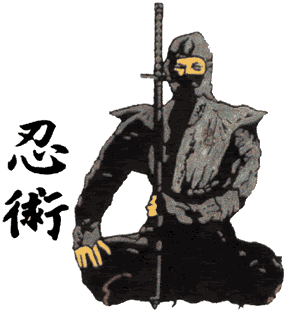 A form of martial art that trains you to throw knifes and shurikens at people, and stay camouflaged. It also teaches you how to shut up while you move along an area so that you will not be heard, but seen anyway. The only way to keep you hidden is to perform it during the night, where light is at its minimal, yet you'll wake everyone up due to the noise you make and get spotted anyway.

Tai Chi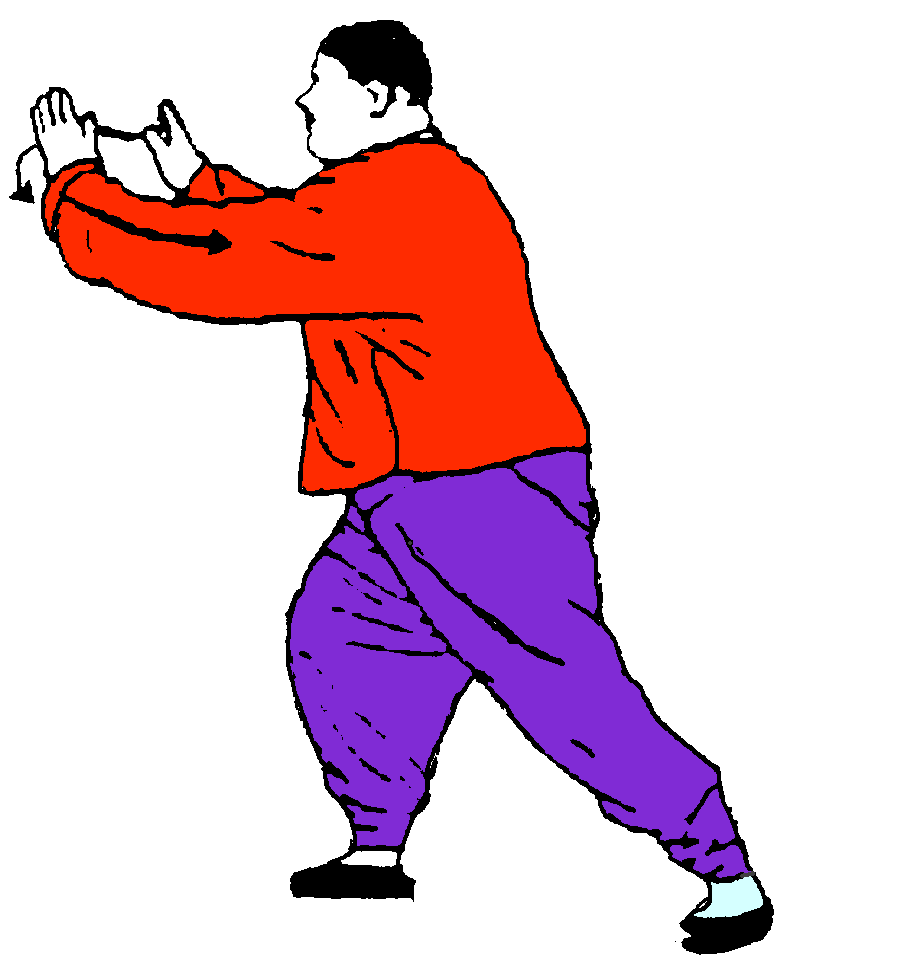 Tai Chi is a unique form of martial art that promises you to have ultimate power by making you move extremely slow for many years, yet by the time you actually manage to gain the power, you are already near to the end of your life. Tai Chi is actually equivalent to standing still, only faster.
-----------------------------------------------------------------------------------------
Norman.

Norman Au.



Blogged at 9:19 PM, +8 GMT



4 Comments:
Interesting post on Martial Arts, but I'd like to enquire, how is Martial Arts used to "lure girls and trick them into sex", as claimed?
Nothing really.
Oh, ok.
Oh, ok..
Friday, September 07, 2007
Food Variety Programme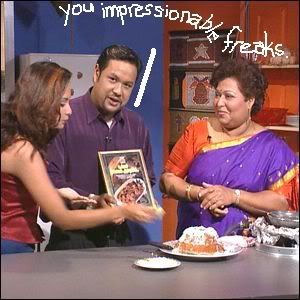 Never trust Food variety programmes unless you have tried the food yourself because all food variety programmes give stupid shitty comments about food products that nobody in the world actually care.

Usually, food that is rated full marks by these programmes just taste okay. They aren't really anything special or what. Its what the media do. They overrated the food. They use words like 'excellent, marvelous, gorgeous, delicious, fantastic, unexpected' for almost all their recommendations. This is what they do: They hire a well known celebrity to try the food even though they should have used a well known chef.

-----------------------------------------------------------------------------------------
Celebrity: Look at the beautiful lit shop! I bet the food is good!
Celebrity: Gosh look at the crowd!
*Join the queue. Serve celebrity.*
Celebrity: Uncle, which of your food is nice?

(Note: This is an extremely stupid question because if the uncle owns the shop, The uncle won't ever admit that they sell food that isn't nice, because that will reduce the number of people who visits his shop. The answer will inevitably be "All of my food tastes great!" or something like that, so..)

Uncle: All of my food tastes great!
Celebrity: I see. I'll have a go on the mutton BIRyani!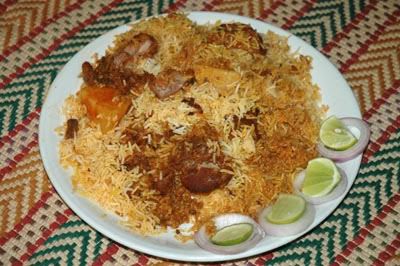 *Next scene, Celebrity seated with mutton briyani, most probably overloaded with mutton so that you will think that you'll get the same amount of mutton when you buy it. Not true.*

Celebrity: Mmhh!! Look at the color of the food! Just by looking at it, I love it already!
Celebrity: The mutton looks so glossy in the curry!
Celebrity: Let me have a try on the food.

*Eats the food. Give out a gasp, but SOMEHOW the celebrity manage NOT to choke on the gasp even though his/her mouth is stuffed full with the biryani. Fake gasp, for effect only.*

..
Celebrity: Oh my god, it tastes good!
Celebrity: The taste of the curry with the mutton, makes the mutton taste just great!
Celebrity: You can feel your teeth sinking slowly first into the hot and spicy curry sauce, then the mutton!
Celebrity: The rice is great too! Nicely cooked, Not too soft or hard. You can really feel each grain of delicious rice in your mouth as you bite them!
-----------------------------------------------------------------------------------------

Do you think theres nothing wrong with the text? If so its okay. But theres almost all of those text are useless. Look again. The useless text are highlighted in green, while comments made by me is in orange.

-----------------------------------------------------------------------------------------
Celebrity: Look at the beautiful lit shop! I bet the food is good!
Celebrity: Gosh look at the crowd!
Celebrity: Uncle, which of your food is nice?
Uncle: All of my food tastes great!
Celebrity: I see. I'll have a go on the mutton biryani!
Celebrity: Mmhh!! Look at the color of the food! Just by looking at it, I love it already!
Celebrity: The mutton looks so glossy in the curry!
Celebrity: Let me have a try on the food.
..
Celebrity: Oh my god, it tastes good!
Celebrity: The taste of the curry with the mutton, makes the mutton taste just great!
(Please note that the celebrity is actually just describing ANY regular mutton curry.)
Celebrity: You can feel your teeth sinking slowly first into the hot and spicy curry sauce, then the mutton!
(Note: Everyone with a sense of touch can do that.)
Celebrity: The rice is great too! Nicely cooked, Not too soft or hard. You can really feel each grain of delicious rice in your mouth as you bite them!
(Note: The celebrity is just describing COOKED [not burnt or undercooked] rice.)




7 words out of 140 words are useful (2percent)


-----------------------------------------------------------------------------------------
Never trust a food variety programme show.

Norman.

Norman Au.



Blogged at 9:54 PM, +8 GMT



0 Comments: