Friday, September 07, 2007
Food Variety Programme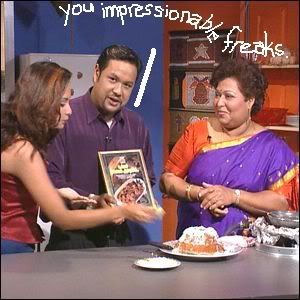 Never trust Food variety programmes unless you have tried the food yourself because all food variety programmes give stupid shitty comments about food products that nobody in the world actually care.

Usually, food that is rated full marks by these programmes just taste okay. They aren't really anything special or what. Its what the media do. They overrated the food. They use words like 'excellent, marvelous, gorgeous, delicious, fantastic, unexpected' for almost all their recommendations. This is what they do: They hire a well known celebrity to try the food even though they should have used a well known chef.

-----------------------------------------------------------------------------------------
Celebrity: Look at the beautiful lit shop! I bet the food is good!
Celebrity: Gosh look at the crowd!
*Join the queue. Serve celebrity.*
Celebrity: Uncle, which of your food is nice?

(Note: This is an extremely stupid question because if the uncle owns the shop, The uncle won't ever admit that they sell food that isn't nice, because that will reduce the number of people who visits his shop. The answer will inevitably be "All of my food tastes great!" or something like that, so..)

Uncle: All of my food tastes great!
Celebrity: I see. I'll have a go on the mutton BIRyani!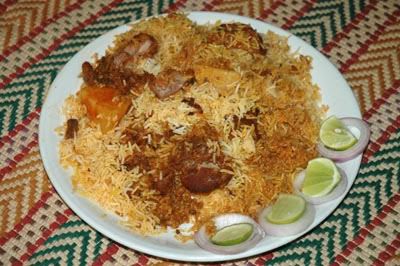 *Next scene, Celebrity seated with mutton briyani, most probably overloaded with mutton so that you will think that you'll get the same amount of mutton when you buy it. Not true.*

Celebrity: Mmhh!! Look at the color of the food! Just by looking at it, I love it already!
Celebrity: The mutton looks so glossy in the curry!
Celebrity: Let me have a try on the food.

*Eats the food. Give out a gasp, but SOMEHOW the celebrity manage NOT to choke on the gasp even though his/her mouth is stuffed full with the biryani. Fake gasp, for effect only.*

..
Celebrity: Oh my god, it tastes good!
Celebrity: The taste of the curry with the mutton, makes the mutton taste just great!
Celebrity: You can feel your teeth sinking slowly first into the hot and spicy curry sauce, then the mutton!
Celebrity: The rice is great too! Nicely cooked, Not too soft or hard. You can really feel each grain of delicious rice in your mouth as you bite them!
-----------------------------------------------------------------------------------------

Do you think theres nothing wrong with the text? If so its okay. But theres almost all of those text are useless. Look again. The useless text are highlighted in green, while comments made by me is in orange.

-----------------------------------------------------------------------------------------
Celebrity: Look at the beautiful lit shop! I bet the food is good!
Celebrity: Gosh look at the crowd!
Celebrity: Uncle, which of your food is nice?
Uncle: All of my food tastes great!
Celebrity: I see. I'll have a go on the mutton biryani!
Celebrity: Mmhh!! Look at the color of the food! Just by looking at it, I love it already!
Celebrity: The mutton looks so glossy in the curry!
Celebrity: Let me have a try on the food.
..
Celebrity: Oh my god, it tastes good!
Celebrity: The taste of the curry with the mutton, makes the mutton taste just great!
(Please note that the celebrity is actually just describing ANY regular mutton curry.)
Celebrity: You can feel your teeth sinking slowly first into the hot and spicy curry sauce, then the mutton!
(Note: Everyone with a sense of touch can do that.)
Celebrity: The rice is great too! Nicely cooked, Not too soft or hard. You can really feel each grain of delicious rice in your mouth as you bite them!
(Note: The celebrity is just describing COOKED [not burnt or undercooked] rice.)




7 words out of 140 words are useful (2percent)


-----------------------------------------------------------------------------------------
Never trust a food variety programme show.

Norman.

Norman Au.



Blogged at 9:54 PM, +8 GMT



0 Comments: