Friday, October 12, 2007




LIFE

This particular post is about what Life is in my opinion.

This question have been on my mind since I was like, 10 or younger."What is the purpose of life?". I wanted to know what is the purpose of life just like everyone else back then. And after 5 years of my life, I finally come up with a conclusion. I think I know the purpose of life.

First of all, we must approach this question without any biasness. Therefore, the purpose of life is as such:

"The purpose of life is such that all lifeforms are to try to stay alive and if possible, reproduce to ensure the continuity of each specific species."




That is it. We are not born to create miracles, discover things. You can only argue that we are born to stay alive, reproduce, and

in the mean time

, discover things we have yet to discover. There is no other purpose in life. You are probably too naive if you think that you are born for any other reason. Because whatever great things you have at the back of your mind about the purpose of life, they will apply to animals such as

chickens, ducks, pigs and cats

as well.





Other than reproduction, there isn't really any other objectives in our lifes. The objectives are all made up by us actually. If we do not actually have the intelligence to think of so many things, maybe all of us would not even ask this question.



Other than reproduction, Life is aimless, irrational and without a purpose. Life isn't about making friends, socializing, having fun, suffering or anything. In reality, life only

allows us

to do what we want, like making friends, socializing and having fun. You suffer because you are

unlucky

, and not because of

fate

.


Fate makes everything in life look stupid. We always blame fate for everything that is happening. For example if someone dies, you say its their fate to die so young. If we blamed everything on fate, we would probably be at the stone age right now. Take a look at these examples of ways to blame fate.

----------------------------------------------------------------------------------------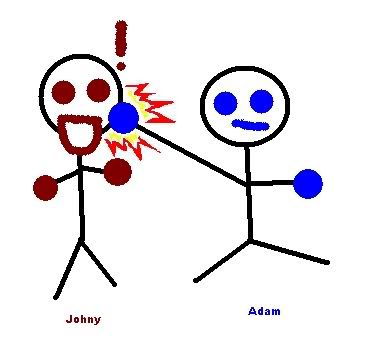 ----------------------------------------------------------------------------------------
So do not blame fate.

Well since life is just like that, why don't i commit suicide? This is because life is so fun. You can play soccer, you can hit your friend, you can do whatever you want, just be prepared to face the consequences.

Life is actually a very, 'technical' thing. Face it realistically.
----------------------------------------------------------------------------------------
Norman.

Norman Au.



Blogged at 11:33 PM, +8 GMT



0 Comments: