Monday, October 01, 2007
CHAINMAIL2
After this post is published, please make sure that you guys don't send me stupid chain mails based on the view point of a single person. Or any stupid chain mail at all. I'm getting more and more frustrated by seeing these mails. Here is a what mails that i hate. Please DO NOT send them to me. Thank you!!

==========================================================
TYPICAL EMAILS YOU SHOULD NOT SEND TO ME.

*Emails which contains the following phrase "If you do not send this to...bad luck for..."


*Emails which contains a hell lot of other email addresses, of which i have taken the time off to erase them off in this picture.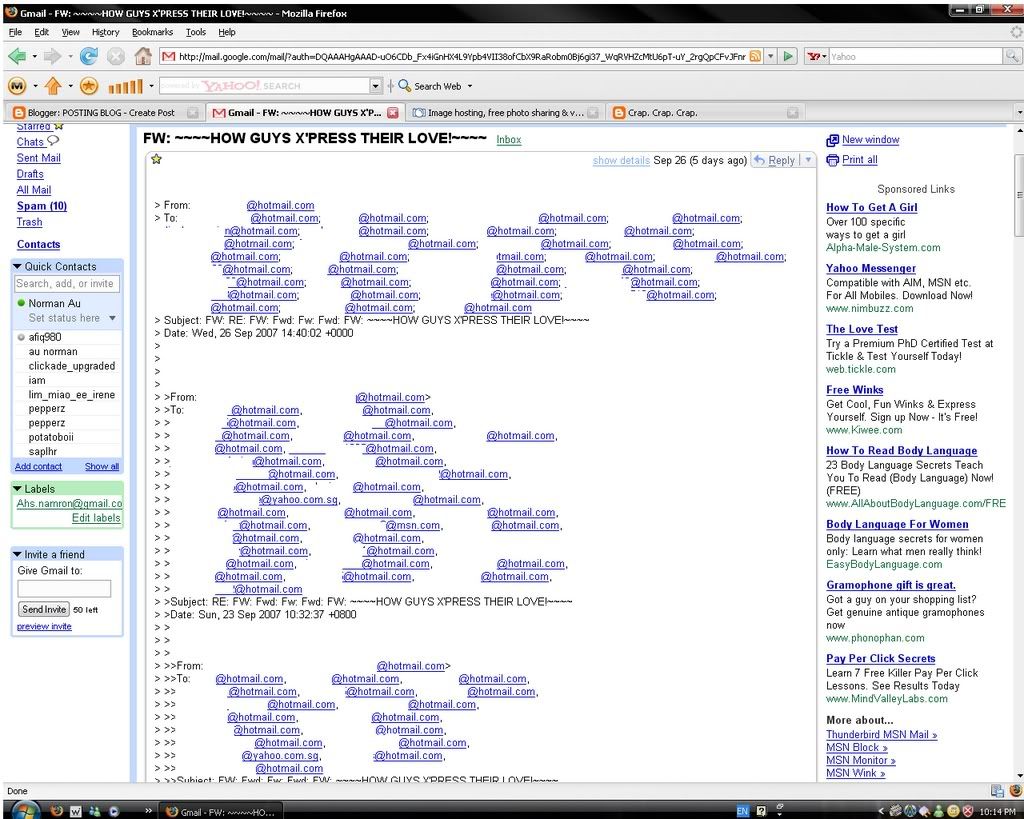 *Click on the image to enlarge*

The thing is, I have no idea why can't people not leave the email addresses of others in the email. If you don't know how to mass-send emails to others at one time without disclosing their email addresses, then don't. If you really want to, you can always do it one at a time. Disclosing someone else's email address without permission is against the law.
----------------------------------------------------------------------------
The following are emails that i have received and reprimand the person for doing so... so please do not do it, thanks!




The thing is, if your chain mail is interesting, it's okay I'll appreciate what you send and also thank you. Interesting emails include jokes, stories, pictures from different part of the world, informative articles, etc. Just like the one above

---------------------------------------------------------------------
* "How guys express their love!!!"
Please do not do not do not send me these emails too. Reason being that these emails are created by people with their own opinions, which does not necessarily coincides with MINE or YOURS. Even if it does coincide with yours, don't do it. It's just like risking your life, just worse. 50% chance. If you don't send, you won't have to risk it. For example..

" When a GUY is quiet and is alone,He's is thinking how good you're, Miss you!!! "

Not necessarily. You haven't thought that the guy is asleep did you? And look, if you trust this email, you are assuming that when a guy stops talking and is alone (which happens everyday, for a few seconds here and there), he is thinking of everyone that has read this email. WHO THE HELL DO THAT???

" When a GUY is lying on his bed,He is thinking deeply why he loves you. "

This is very wrong. When a guy is lying on his bed, it means he is asleep and trying no to think of anything. If he loves you, he don't need to think deeply why he loves you, because he already knows. Therefore if he's lying on his bed and thinking deeply why he loves you, it is most probably because someone forced him (presumably you).

" When a GUY looks at you in your eyes, He wants to tell you how much he loves you and how important you're. "

Always remember that if this statement is prove to be right, it means that guys should be blind. If I'm a guy, i don't want to tell others how much i love them every time i look into their eyes, because if i do it means that I'll have to do it every day to everyone whom i have talked to. It will be like:

Waihon: Hi norman
Norman: Hi, do you know how to do amath? I love you and you are very important.
Waihon: Oh, easy lah.
Norman: Can teach me? I love you and you are very important.
Waihon: Ok.
Norman: Thanks. I love you and you are very important.
Afiq: Hi norman.
Norman: Hi. I love you and you are very important.
Chingjun: HEY PEOPLE!
Norman: HEY CHINGJUN! I LOVE YOU AND YOU ARE VERY IMPORTANT.

------------------------------------------------------------------------
MOST IMPORTANTLY, NEVER EVER SEND ME EMAILS LIKE THESE.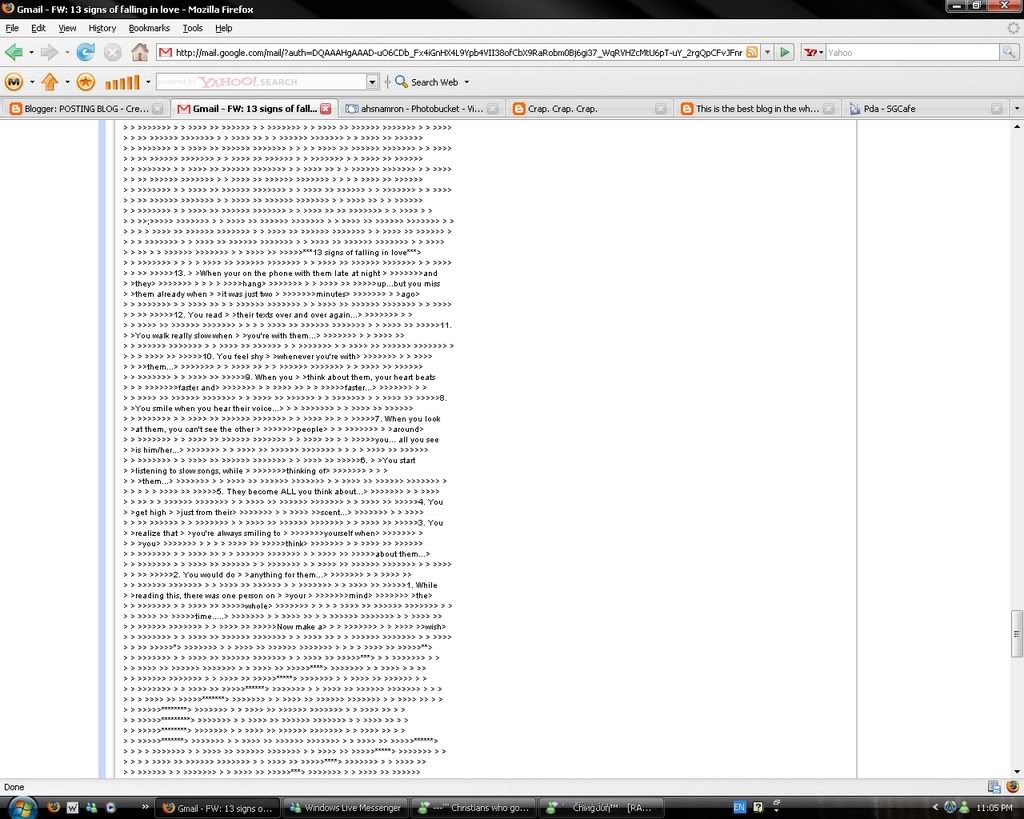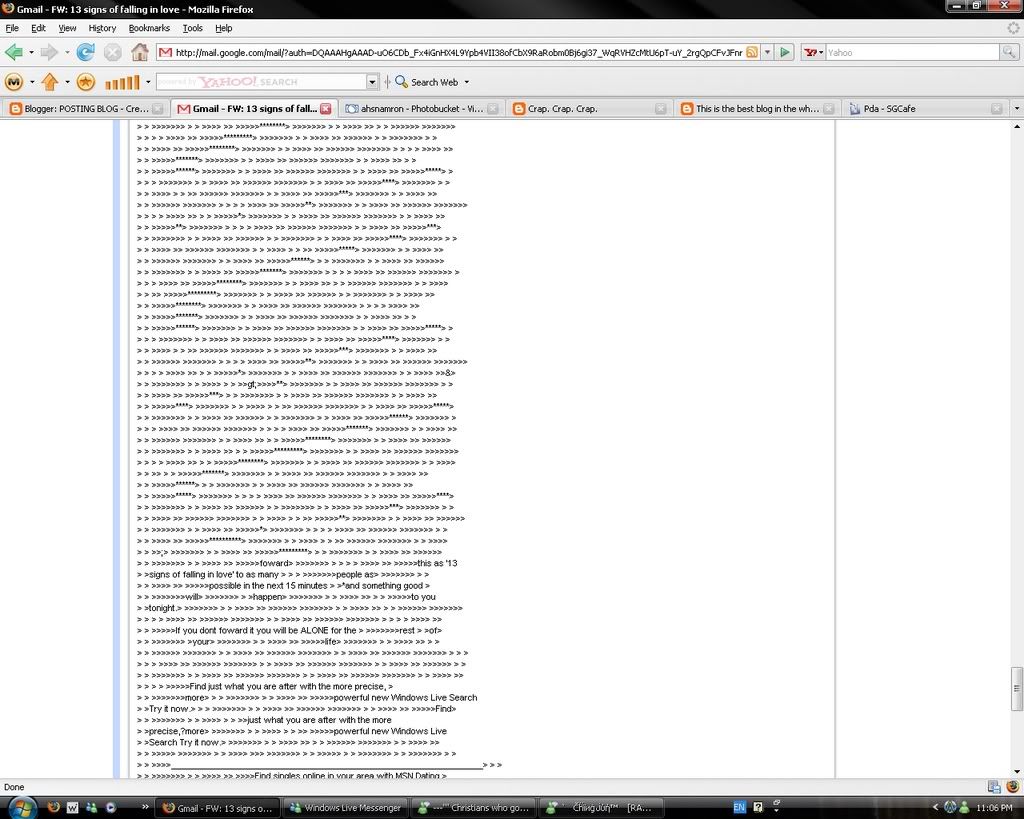 Please send legible emails. DO NOT send me these email please. Look before you send. Don't send me crap which i can't and won't bother to try to read. A good way is to not use ">". The best way is to not send me those mails at all. Thank you!!!

=====================================================
Will not be posting frequently due to my End of Year Examinations. Hope all of you score well in exams! Study hard! Don't play too often for this term. I don't want my friends to retain or anyone to.

Norman Au.



Blogged at 9:54 PM, +8 GMT



1 Comments:
>>> >>> >>> The fact that >>>
you >>> >>> >>> >>>put the >>>
>>> >>> >>> >>> >>> >>,>> ,..>
>> >email >>,.,>,. >> >>> >>>
>,.>>>on,, >>> >>> >>>your blog
>>>>> makes >>> >>> >>> ,.,>>,,it
>>> >>> >>.< ,,>>> =)=)=) o.o>>
not useless >>> >>> >>> ,.>> .
>>> ..././.['];[[.';.';.';.
.;'.[.['.[].][p;.[.p;[.>>>>>P.;>:>

anymore>>>>>>>>